These all are individually made handmade decks and are created as needed, this way I am able to offer a wide range of choices as to sizes and versions. They are hand cut and laminated. The cut is not precise like a commercial deck, but it feels good in the hand and shuffles well.


CLICK THE LINK (not the picture)TO SEE MORE !
Original Version Illuminated Tarot
---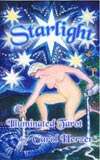 Starlight Illuminated Tarot
Borderless or Black Borders, no titles on the cards.
---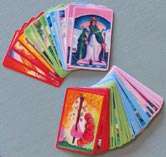 Elemental Rainbows
---
Crystal Fire Illuminated Tarot
---
Deep Crystal Illuminated Tarot
A dream like landscape, ice and snow, full of magical light and shadows.
---
Mystic Shadows Illuminated Tarot
This page includes the earlier Dark Crystal Rose variation
---
Prices can be found on the page for each version. Below shows the relative sizes of large, medium, travel and pocket decks. Squares on the cutting board shown here are one inch. Click on picture for larger image.
---
NO MORE MEDIUM SIZE ORIGINAL VERSION AT THIS TIME.
For medium size decks here is the list of what is available:
Elemental Rainbows
Crystal Fire
Deep Crystal
Starlight Borderless
Mystic shadows
Dark Crystal Rose
For Travel size I have:
Original Version
Starlight black Borders
Original Version Black Borders Deck (BBD)
Elemental Rainbows
Large size includes:
Original Version
Starlight Borderless
Starlight black Borders
Deep Crystal
Elemental Rainbows
Crystal Fire
Mystic Shadows
---
click on image to see higher resolution


To order, first send me an email and tell me your SHIPPING LOCATION and the VERSION AND SIZE of the deck you want.
If you are outside the USA PayPal is required. I accept both PayPal and checks for USA orders. You can not order directly from our site. For all PayPal payments I will send you an invoice after the order is confirmed by personal emails. All prices are in US dollars and payments must also be in US dollars, USD.
I combine shipping on multiple item orders if possible. Shipping in the USA is by priority mail with insurance.
For orders outside the USA Express Mail is required due to security policies of PayPal. Check with me as to the cost of that. Shipping is expensive if you are outside the USA. I do not make any shipping. Large companies can take direct credit card payments and they can ship without the restrictions of PayPal. I only have PayPal for payments from outside the USA.
---
Statement from the Artist
All of my decks are handmade and not to be compared to commercially printed decks. They are laminated on both sides, the lamination is very flexible, done with a professional quality machine that we have that has rolls, it is not the home sandwich style lamination. With my decks the cut is not as precise as a commercial deck. The sizing of the images of the artwork varies slightly with decks that have borders, so if you like to trim your decks to be borderless, it will not match. I have made some borderless variations and they are an exception to this. I do my own printing and have control over the colors, which is very important to me as an artist. By making the decks myself I am free to create the versions and variations, and sizes, as well as to make the very special decks with added effects of glitter iridescent and fluorescent colors added, look to the Divine Sparks of Light pages to see what I have available.

Questions? Email us at sun19@earthlink.net