Inspirational visionary art, landscapes, mandalas, geometric patterns, brilliant color and magical themes, painted in the 1970s.
This is page 2.
Go to page Page 1.
If you interested in buying one of our paintings, please contact us by email: cherzer@outlook.com
All images are copyright © by Carol Herzer.
Mother and the Moonstone
oil on canvas, 1975, 60 x 60
A painting that was done when I was pregnant with my firstborn. It was in the 5th month. I had a dream where I saw inside the moon.
Comet Falls
Acrylic on canvas, 44" X 54", 1977.
Based upon a photo of Comet Falls, located near Mt. Rainier. Painted in New York City at the time of the discovery of Chiron, the comet image will appear later in the Chiron card of the Cosmo Astrotaro and Cosmo Meditations decks. A magical, cosmic energy is entering the landscape. Painted while I was expecting my second son.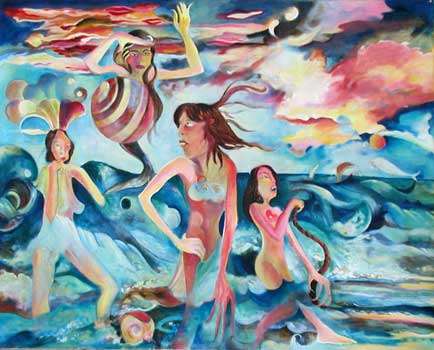 Dancing With Dolphins
Oils on linen canvas, 48" X 60", 1978.
Painted in New York City, a vision of youthful exuberance, dancing and playing with the dolphins by the sea. Painted on the finest heavy linen canvas.
Dark Side (Hurricane)
Oil on canvas, 1979
Children of the Storm
Oil on canvas, 70 x 50 (very large) 1978
Painted while I was living in New York City, there was a hurricane passing by, the two children are my own.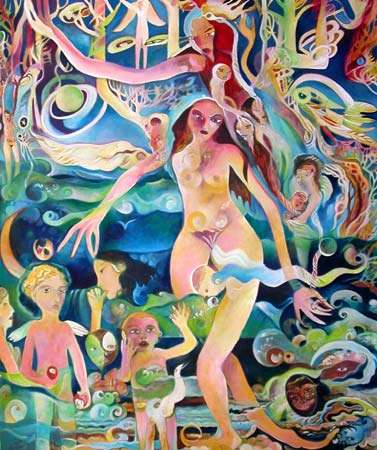 Family Tree
Oil on canvas, 1978, 72 x 60
Father, mother, children, spirits of past and future.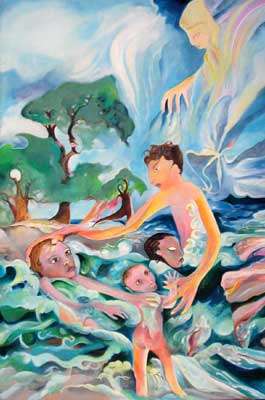 Father and Children
A large painting, oils and acrylic on canvas, the father shelters and protects his children, who all are headed out to sea (life).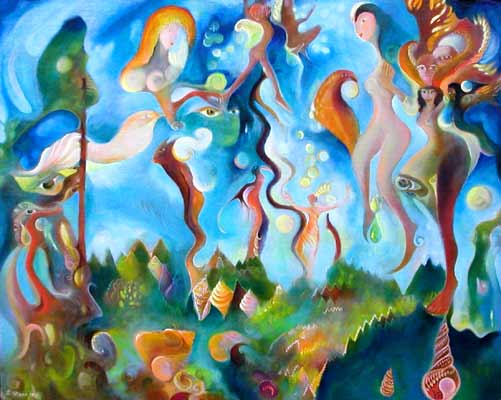 Evolution
acrylic and oil on canvas mounted on board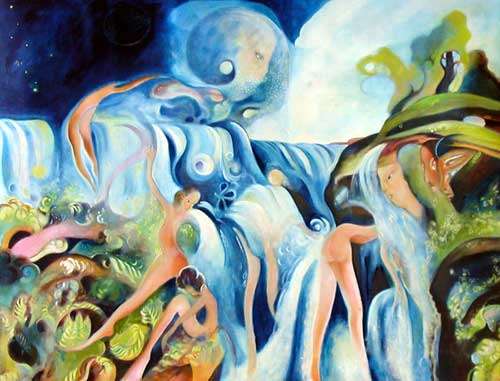 Waterfall Sprits
Oil on canvas, 1979
Cleansing the soul in the waters of life.
The Light Ball
Acrylic and oil on canvas, 1979
Tree Angel
oil on linen canvas, 48" X 52", 1976.
Painted in Santa Fe. My firstborn was a year old, I felt like the tree as I carried him around. The second child, his brother was to come two years later.
Crossing Over
Oil and acrylic on canvas, approx. 40 x 70 inches.
The passing of a young woman, she is leaving behind the jewels and riches of the earth, they fall back into the ocean as she goes on.
Gentle Spirit Wave
Waterfall Mother
Painted after a visit to a big waterfall just below the Platte Clove waterfalls. Nature spirits abound, a mother is carrying her child through the landscape (life) and it is beautiful but the child needs protection. At the time my two children were very young.
Ice Dreams
I have always loved dance and dancing on ice, skating. When I painted this I was living in Soho, in a loft. It was winter. On the TV was the fall of Tai and Randy, two skaters competing for glory. But there is more happening here, there are elemental energies at work.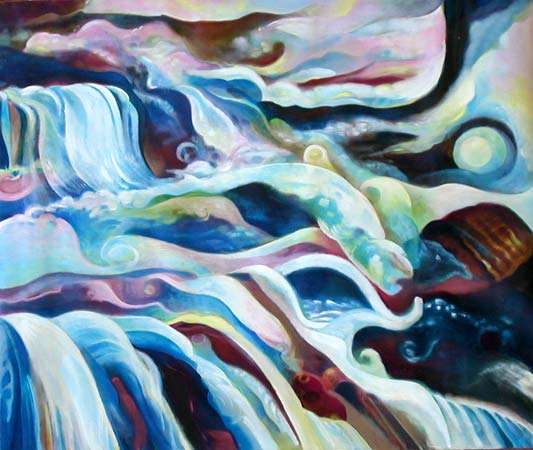 Storm Waves
Oil and acrylic on canvas. Watching the coming storm. The waters rising. A precursor of many of my paintings of the 1990's into 2000's Now we know. The oceans will rise.
Spirit Horse
Acrylic on canvas
Martha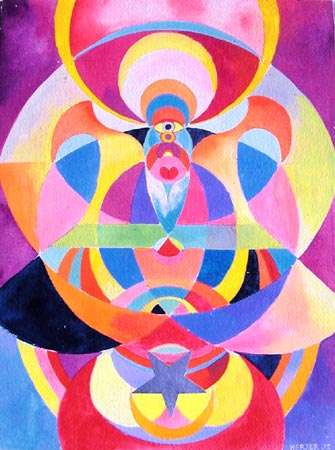 Neon Star