As of February 2014, Brien Foerster from the Hidden Inca Tours, released some preliminary result of DNA testing of the elongated skulls from the Paracas skulls in Peru:
"We were permitted to take samples from five of more than 40 elongated skulls which are held by the local "Paracas History Museum". The samples consisted of hair (including roots), a tooth, skull bone and skin, while this process was carefully documented with photos and on video. With the help of the late Starchild researcher and founder of the "Starchild Project". Lloyd Pyle, samples were send to a geneticist in Texas for the procedure of DNA analysis." The geneticist's findings: It had mtDNA (mitochondrial DNA) with mutations unknown in any human, primate, or animal known so far. But a few fragments I was able to sequence from this sample indicate that if these mutations will hold we are dealing with a new human-like creature, very distant from Homo sapiens, Neanderthals and Denisovans. The implications are of cause huge. "I am not sure it will even fit into the known evolutionary tree," the geneticist wrote. He added that if the Paracas individuals were so biologically different, they would not have been able to interbreed with humans."
If you are interested in the details of his ongoing DNA analysis of the Peruvian elongated skulls, visit Brian Foerster's very interesting Hidden Inca Tours website.
Brian Foerster explains that they did repeated test on a skull from a two year old baby (2000 years old) wrapped in in several layers of textile. The test showed that the haplogroup came from Northern Europe. The second skull tested was 800 years old, and this DNA came from Syria, or the Mesopotamia area. (haplogroups in DNA are used to define genetic populations.)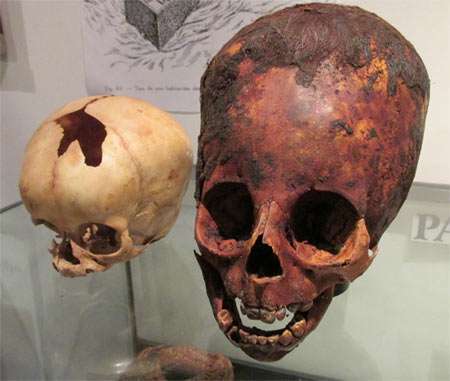 The Paracas child (right) compared with normal human child of the same age. Needless to say how very different the skull itself is!
They also found maternal DNA found from hair of another skull of which the DNA is "commonly found in Western Europe, especially among the Basque (27.8%) but also in Iberia and perhaps north Africa."
So far, in regards to the Paracas people in Peru, we are looking at human species, separate from Homo sapiens, which ancestry came from Europe. That is interesting because the Paracas people had red hair, and the other species that had red hair were the Neanderthals which lived primarily in Europe and the Middle East.
L.A. Marzulli states that the DNA results fit with his hypothesis that the Paracas people are the Nephilim. The Nephilim, according to ancient Biblical texts, are the offspring of the Fallen Angels and the women of earth, resulting in a hybrid entity, and they said to be based in the area of the Levant, the same place that the Paracas DNA traces to. The Fallen Angels are then extraterrestrials who came down in that area of the Earth to genetically tinker with humans, and create this new race. He says that the humans got fed up with this new, strange looking race, and decided to wipe them out, resulting in an exodus of the long skull people, in ships, to the Americas. (YouTube Interview with Marzulli)