back to Carol Herzer 1970's pastels intro

A variety of images: landscapes, dream worlds, visionary and magical, surfing the cosmic wave, a guardian angel, tree spirits, nature spirits, moonrise over Santa Fe, mystical portraits.
All pastels are approx. 20 x 26 unless otherwise noted.
If you interested in buying one of our paintings, please contact us by email: cherzer@outlook.com
All images are copyright © by Carol Herzer.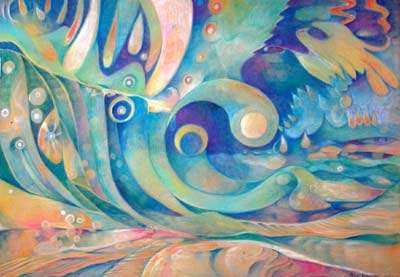 Full Moon of Aquarius
A recurring dream all my life, of the big wave. Painted during the full moon of Aquarius, a high point of summer.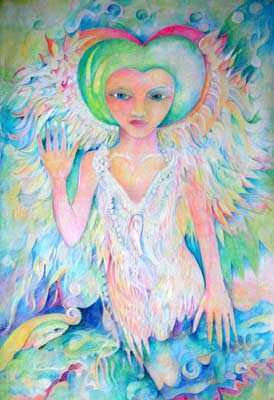 Guardian Angel
A guardian angel, painted in 1974. One year after this pastel was created my son Raphael was born. Perhaps it is the angel Raphael, an angel of healing. The green heart shape around the head suggests a connection to the heart chakra. This piece is double size, on two joined pieces, making it 26 x 40 inches.
c
Moon Rider
Riding the big wave of life, surfing the cycles of the Moon. One of a number of pastels and paintings on the theme of the big wave, a recurring dream in my life.
Surfing The Cosmic Wave
An image from my big wave dreams. A partial figure at the right is escaping. This is a larger piece on two joined sheets of the pastel paper, it is 26 x 40 inches.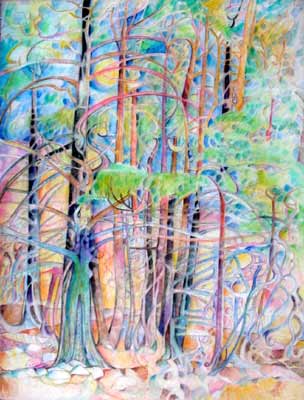 Tree Spirit
Big pines stood behind my house, at night when the wind would blow I hoped the tree spirits would be strong. I always have thought of trees as being tree people themselves.
Santa Fe Moonrise
A summer moonrise over the hills in Santa Fe, 1976.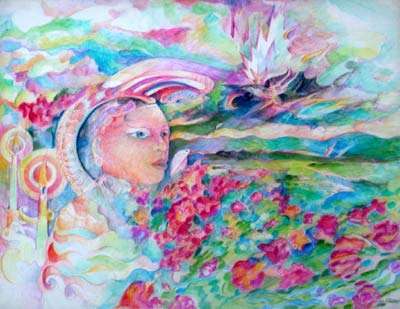 Candle Light
A new spirit has entered, painted 2 months after the birth of my eldest son, in the summer during the time of the sign Leo, a fire sign, also his rising sign. (Part of the Birth series.)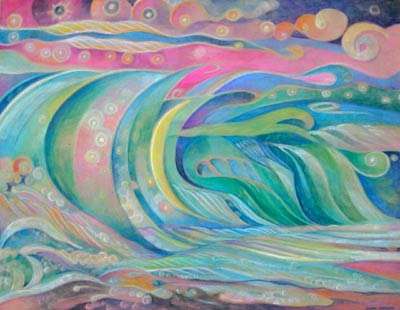 Cosmic Wave
Another vision of the big wave dream that comes to me again and again. The wave is beautiful, but if you are on the beach you will be swept away. In my childhood I went with my family to the ocean a lot, so perhaps that is where it comes from. Or it could be a more primal deeper memory, maybe we all carry it, of tsunamis in our collective history.
Buckets
I lived in Santa Fe for a year, when I was there I had to carry water for the garden. Out there where water is scarcer we realize more how precious it is. Water is a symbol of the life force, we all are carriers of it, carrying it we become stronger, we learn and grow.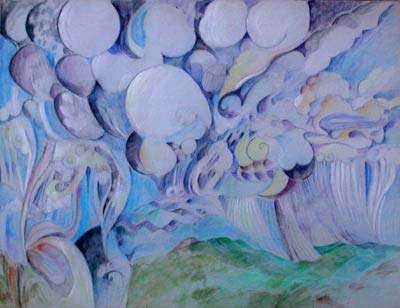 Thunder Clouds
A Santa Fe thunderstorm, with big rolling clouds, sudden rain that fills up the arroyos.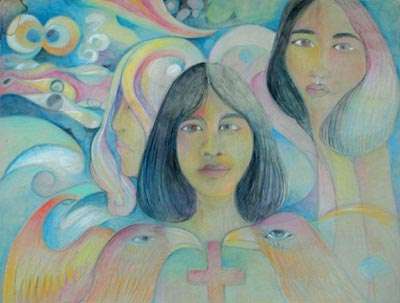 Priestess
A portrait of the wife of a musician friend, he was very wild and untamed, she by contrast was like a priestess, with inner calm and balance. Woodstock, 1973.
Revolution
The wild musician, surrounded by women in his life. He was a Frenchman with tales of being a revolutionary in his youth.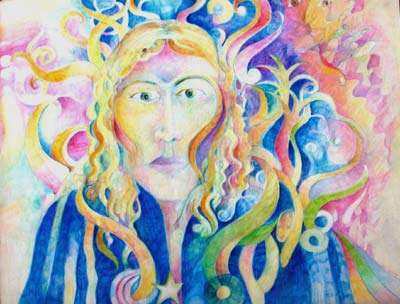 Self Reflection
A self portrait, a reflection of my inner self. A lot is going on around me, but inside I am serious, even a bit anxious at that time. It was 1974, I was 30, the time of my Saturn return and changes. Within a year I would have my first child.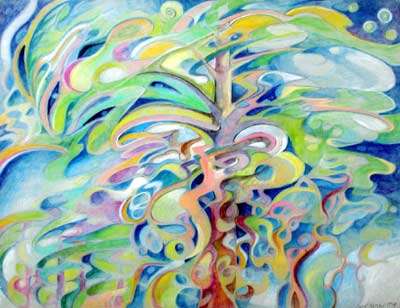 Wind in the Pines
The wild dance of the wind through the tall pines, like music. Woodstock, 1973.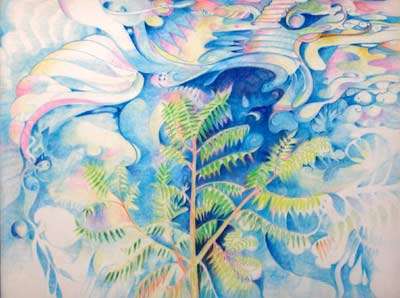 Sumac
I have always loved the delicate lace like patterns of the leaves of this plant. The cloud forms around it have perhaps become the underlying template of the forces of nature that shape the plants and give them their forms.
Coyote With Fairy
Where this canine came from I do not know, I never have had a dog, so I guess the image is from a nature spirit that was there. This piece was done in the same location as "By the River", shown at the beginning of this page. It is the Sawkill river in Woodstock. If you look carefully you will see other hidden figures including some birds. There is a green fairy next to Mr. Coyote ( I decided it is a coyote since we now ((30 years later)) have lots of them in this area). Behind is a tree that could be the entrance to his cave. Big moss covered rocks are behind that.
Angel of Overlook