back to Painting Gallery of Carol Herzer: index

Chakra paintings by Carol Herzer, including the 7 individual chakras and several paintings each with two chakras.
They all are acrylic on watercolor paper, 21 x 28 or 22 x 30 unless otherwise noted.
If you interested in buying one of our paintings, please contact us by email: cherzer@outlook.com
All images are copyright © by Carol Herzer.

Throat-Sex Chakras
An intense piece that was an alternate for the Chakra Tarot, but not used in it. The throat chakra is blue, the sex chakra is orange, the two colors are playing against each other in a strong dynamic here.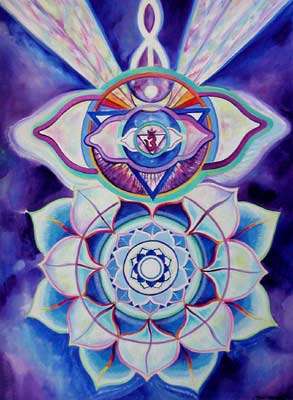 Throat-Inner Eye Chakras
Also an alternate of the Chakra Mandala series that became the basis of the Chakra Tarot. the other painting worked better with the tarot image. this one has an especially nice throat chakra.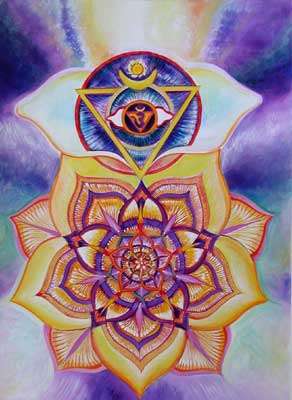 Power-Inner Eye Chakras
One of my "extra" chakra paintings that is for sale. the power chakra is very intricate, as it woven from fine threads.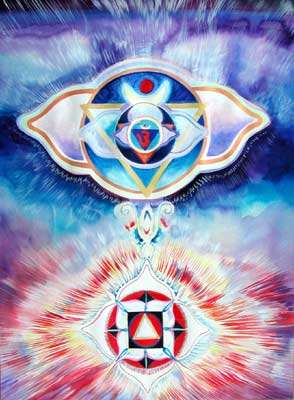 Inner Eye - Root Chakras
Painted in 1995. A second painting of the inner eye and root chakras. Since it is not included the Chakra Tarot it is for sale. I especially like the light quality of this one, the root chakra is full of light.



Inner Eye 1
A calm quiet inner eye floating in the blue.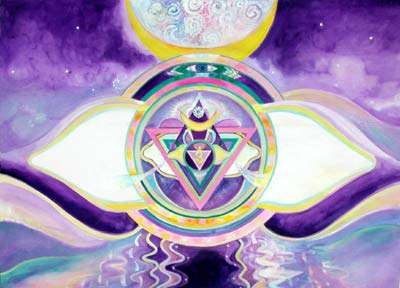 Inner Eye 2
The inner temple of the inner eye.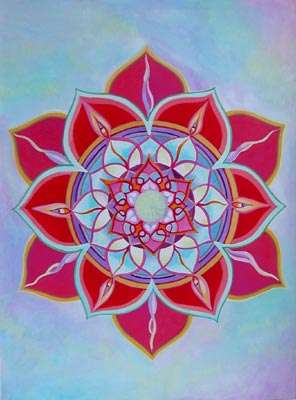 Red Heart
The pattern for the Heart Chakra, in red instead of green.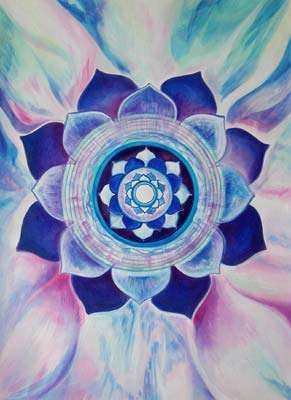 Throat Chakra 2
One of two versions of the throat chakra painted when I was creating the Chakra Tarot. This one is not in the deck so it is for sale.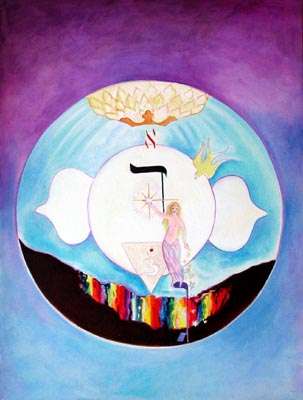 Ajna Goddess
Perhaps the very first painting I did in the entire sequence of chakras. It was a copy of a Design by Dirk, I especially loved the rainbow in the earth, which you will see again in the inner eye painting I did later, shown below.
---
The Seven Individual Chakras

The following paintings all were the original source material of the 7 Chakras as they now appear in the Chakra Tarot. To create the Chakra Tarot images these were photographed, copies made on the color copier, and the copies then painted over until they were "right" for the deck and reproduction. As paintings the images below look good as paintings , but made smaller into cards they were too pale, and did not copy well. All of this was back in the 1990's, before the wonderful world of digital photography opened up. I am now able to make great posters of them that retain the subtle colors that photography and color copying missed.

Root Chakra



Sex Chakra



Power Chakra


Heart Chakra


Throat Chakra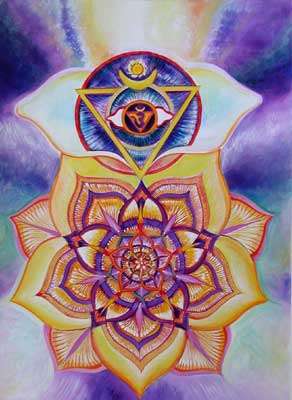 Inner Eye Chakra


Crown Chakra