back to Painting Gallery of Carol Herzer: index
A series of paintings, goddess faces and the chakras combined.

All chakra Goddesses are acrylic on watercolor paper and are 22 x 30 inches unless otherwise noted.


If you interested in buying one of our paintings, please contact us by email: cherzer@outlook.com
All images are copyright © by Carol Herzer.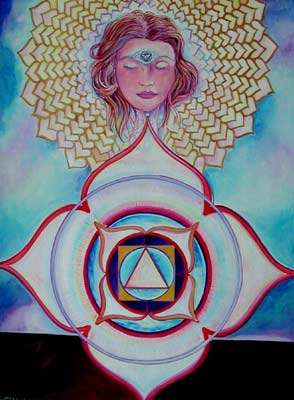 Chakra Goddess-Root
The chakra Goddess is looking down from her crown to the Root Chakra below. the root here shows only some red, it can also be white, it is the home of Kundallni, and the awakening of consciousness and light.



Chakra Goddess-Sex
The sex chakra is also about healing, here the healing hands of the Chakra Goddess are shown



Chakra Goddess-Power
The third ,or power chakra is connected to the ego, here the Chakra Goddess is reflecting upon herself. To me this painting has a Celtic feeling, it was not intended, it just came through.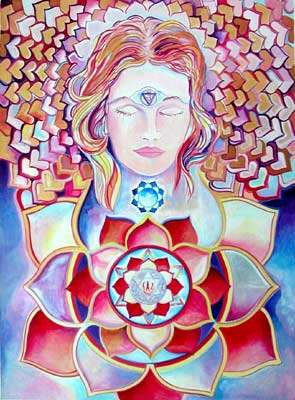 Chakra Goddess-Heart
This chakra Goddess painting focuses on the heart. The throat, inner eye and crown are all shown too. Heart chakra is usually green, here the red and rose are for love. Actually all colors are in all chakras, just certain ones are emphasized.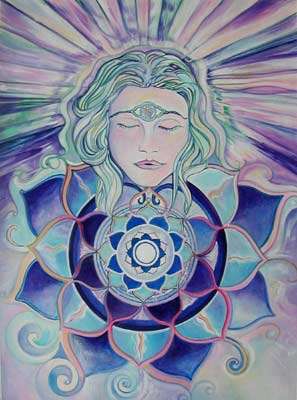 Chakra Goddess-Throat
It seems she is singing, the inner sounds are radiating around her head.



Chakra Goddess-Crown
All of the chakras from heart up are indicated here, but it seems she is focused in the crown. Heart, throat and inner eye are like jewels she is wearing.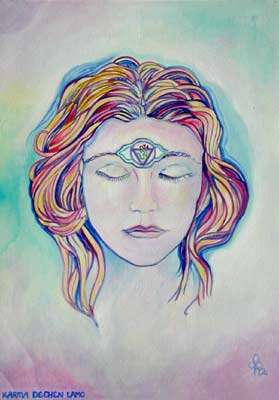 Chakra Goddess-Inner Eye
This painting is smaller than those shown above. It is 15 x 20 inches. My first Chakra Goddess painting, showing only the inner eye.