back to Painting Gallery of Carol Herzer: index

If you interested in buying one of our paintings, please contact us by email: cherzer@outlook.com
All images are copyright © by Carol Herzer.
Buddhist Paintings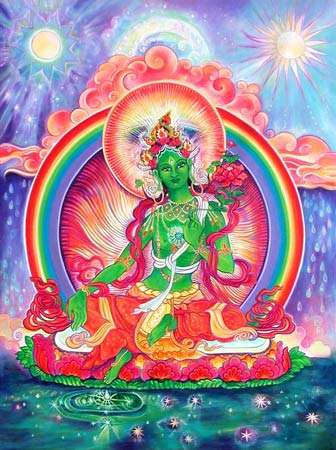 Green Tara of the Stars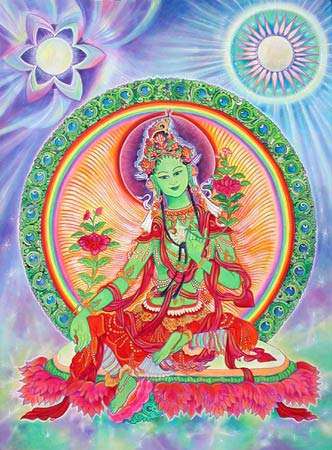 Clear Light Tara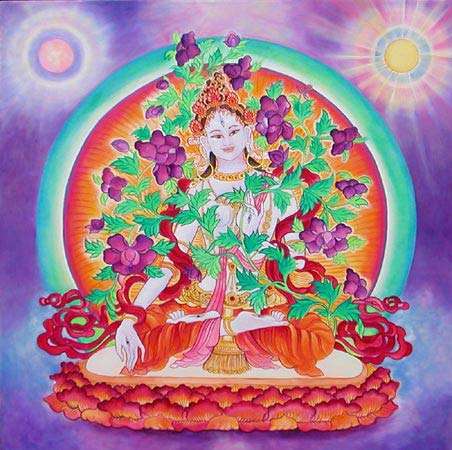 Tara of the Flowers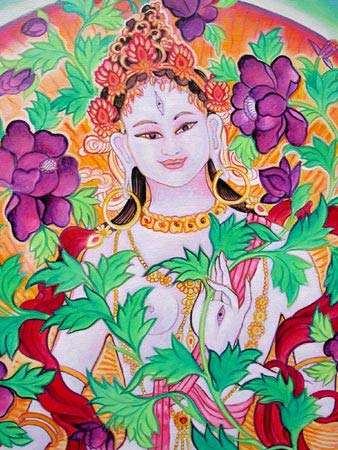 Tara of the Flowers
close up of portrait
Green Tara of the Glowing Rainbow
Green Tara is ready to jump up at a moment's notice to bring help where it is needed. This is Carol's Green Tara of the Glowing Rainbow, and her motto is Live to Give, and Give to Live. She is very concerned about saving the planet, and bringing an end to suffering.
Acrylic on canvas, 24 x 30 inches, finished February 2007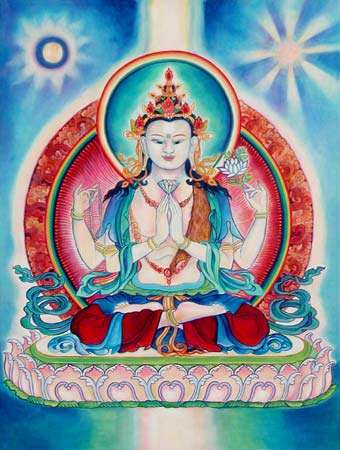 Chenrezig
acrylic on canvas, 30 x 40, 2006
Also known as Avalokiteshvara, This is the Buddha of compassion. He is white, translucent and he glows in the day and the night. A beam of light comes down from the heavens through him and is seen below him, bringing the light to all here below in the physical world. His mantra is OM MANI PADME HUM, the jewel in the lotus. The Dali Lama is a manifestation of Chenrezig. this painting was made just before his fall 2006 visit here. The next painting, Chenrezig 2, was done immediately following.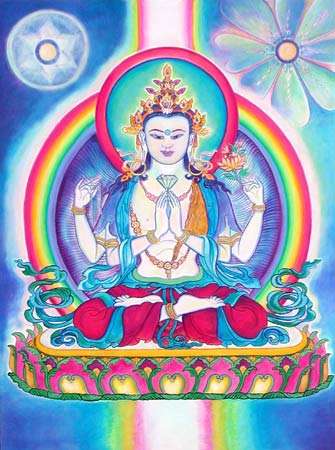 Chenrezig #2
acrylic on canvas, 30 x 40, 2006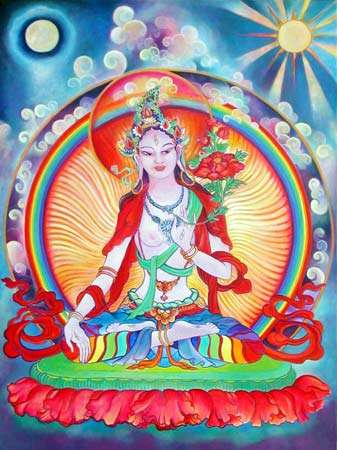 Summer Tara
Acrylic on canvas, 30 x 40 inches, 2006
In this Tara panting have worked from a traditional White Tara drawing. As much as I was able I made the face like she appeared to me in a very special dream.
To hear the Tara mantra sung by Carol with the Tibetan singing bowls, click here.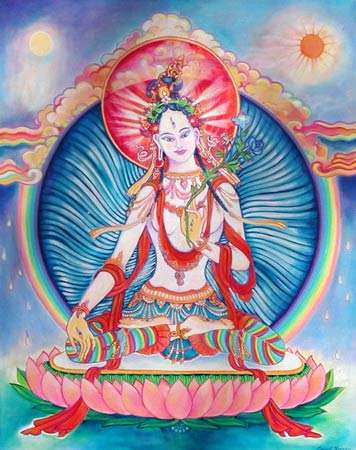 White Tara
Acrylic on canvas, 24 x 30, 2006
For healing a white Tara can be painted in one day along with other practices. This painting took a week, was for a healing, and she did bring results. Tara is immediate in her help. The very day I started the person found out the cause of one of his problems and this knowledge has enabled him to eliminate the problem. The cause and solution of a second problem was found shortly after that putting an end to much suffering.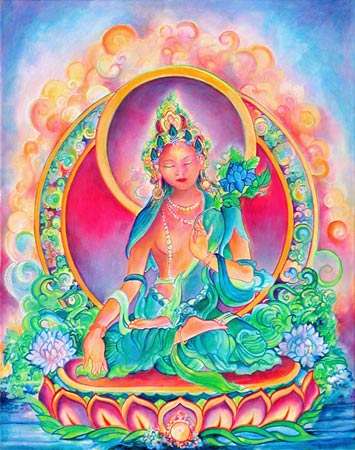 Opalescent Tara
Acrylic on canvas, 24 x 30, 2005
Painted in the spring of 2005, she is deeply immersed in the gentle colors of spring. The colors also were inspired by the opalescent fire of a lovely opal egg that fell into my hands, a gift from spirit by way of an Indian woman named Rainbow Weaver.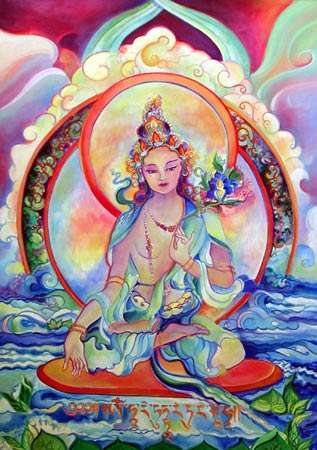 Rainbow Tara
Acrylic on watercolor paper, 30" X 41", 1993.
This is my first Tara painting. The source drawing was a White Tara, but since the painting evolved to have a full range of colors she is called Rainbow Tara.
Tara Tu
Acrylic on watercolor paper, 30" X 41", 1993-2006
This is the second Tara I ever painted. She was started right after Rainbow Tara, above, but was not finished for a long time and went through several permutations before fully manifesting.
Golden Tara
Acrylic on watercolor paper, 30" X 41", 2004
the third and last Tara on watercolor paper, she was started in the winter, when the sun was in Capricorn, therefore the earthy golden colors. Perhaps she is more mature, this Tara is very wise and grounding.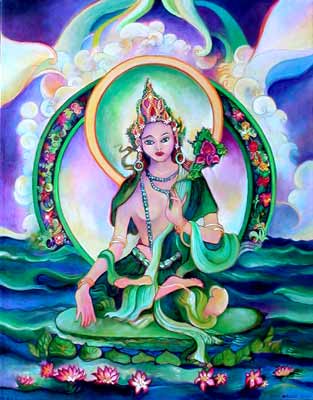 Tsunami Tara
Acrylic on canvas, 20 x 30 2004
This Tara painting was done on a request, and was for a Christmas gift. I started it late October 2004, I worked on it right to the last minute, it was finished the day before Christmas. What is interesting to me is how this Tara seems to connect to events that happened at the time of her creation, namely the Tsunami which happened the day after that very Christmas. She has such a compassionate, concerned face, and the colors of the ocean are strong and deep. A great wave of compassion arose with that tsunami, and it changed the consciousness of many souls toward caring for others.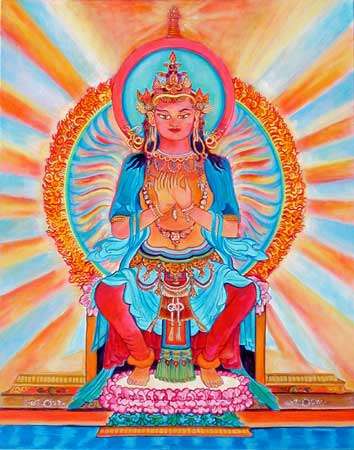 Maitreya 1
acrylic on canvas 24 x 30, 2006
Maitreya is all about loving kindness. His hands are in the teaching mudra position. He is shining like the sun, the warm rays of light surround him and radiate out.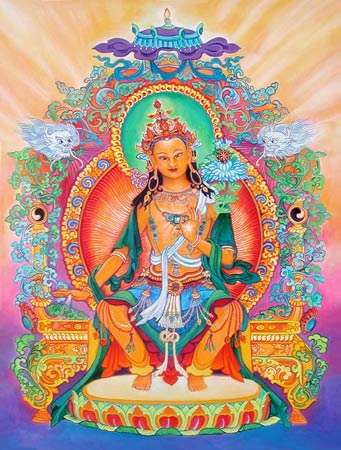 Maitreya 2
Acrylic on canvas, 30 x 40 inches
In this second Maitreya painting, I have used a different source drawing, and the full throne is shown. Details of this painting: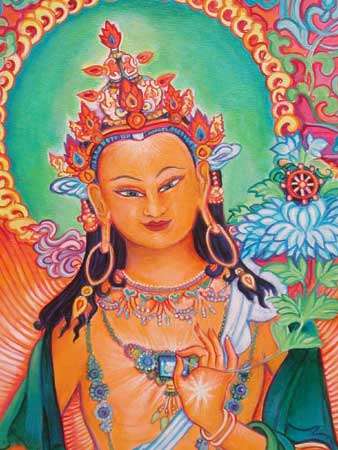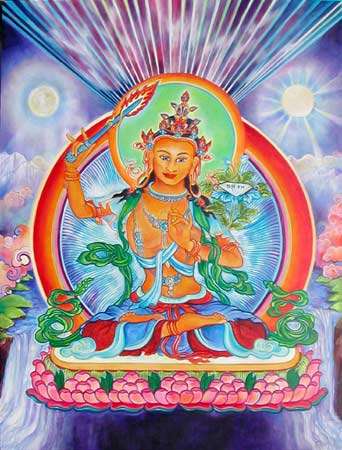 Manjushri
Acrylic on canvas, 30 x 40 inches, 2006.
Manjushri's flaming sword is the sword of wisdom, he cuts through confusion and brings a clear mind. Instead of the usual book or a box with a scroll I have put a jewel on the flower he is holding, and on the jewel is inscribed his seed mantra syllable, DHIH. The rays of light over his head are the same as that jewel, and they are like the pages of a book of wisdom. Details of this painting: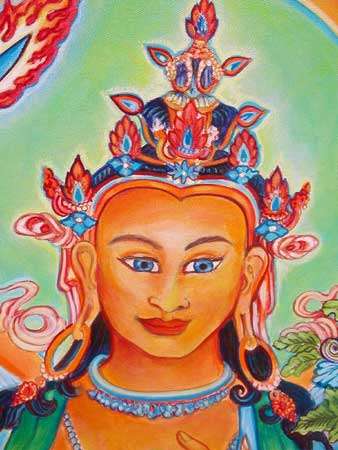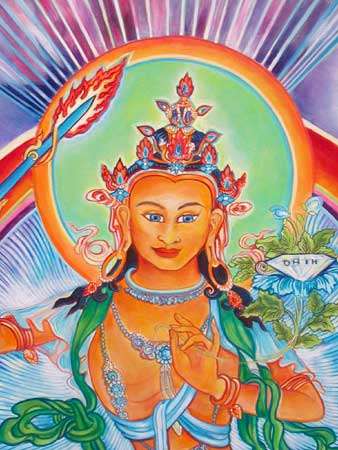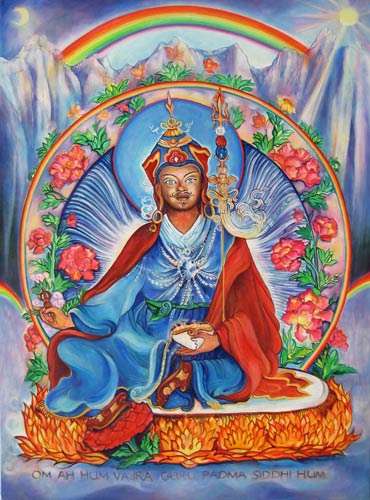 Padmasambhava
Acrylic on canvas, 30" X 40", 2006.
Padmasambhava brought Buddhism to Tibet, therefore the mountains in the background. With his three pronged staff he overcame all kinds of demons and negative forces as he went into Tibet. The portrait is as close as I could get it copying from the picture of the statue of him that was made during his lifetime, which he blessed and said "it looks like me". The Guru Rinpoche mantra is written across the bottom of the painting.
Details of this painting: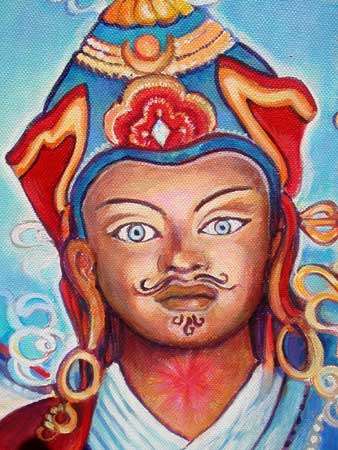 Medicine Buddha
Acrylic on watercolor paper, 30" X 41", 2004
This is a non traditional vision of Medicine Buddha. I love waterfalls, and water is the life force, the energy of healing. It needs to flow. The heart chakra is shining and the inner eye and crown are also illumined. The mountains in the background are emphasized, I looked at pictures of the Himalayas for inspiration. The sun and moon represent solar and lunar prana, they have a glow as well. He is surrounded by flowers. The inspiration for these came from a color picture of Himalayan medicine flowers in Swami Rama's book Living With the Himalayan Masters, which I read just before doing the painting. The blue color of Medicine Buddha is lighter than most paintings you will see. I wanted his features to still be clear, and for him to be glowing. His body is radiant. I have learned the mantra for Medicine Buddha, and sing it a lot, with my singing bowl, in front of the painting. It occurred to me that his medicine bowl could also be a singing bowl! The mantra is for healing body mind and spirit, thus the three times bekanze:
Teyata om bekanze bekanze, maha bekanze radza samudgate soha.
---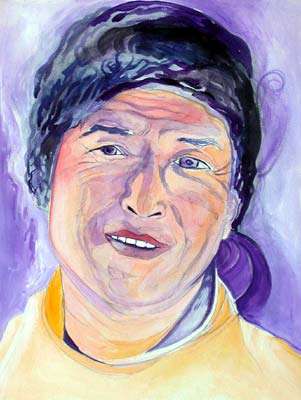 A Lama who I have never met, but with whom a close friend had strong connections. She gave me his picture. He has a very kind and gentle presence.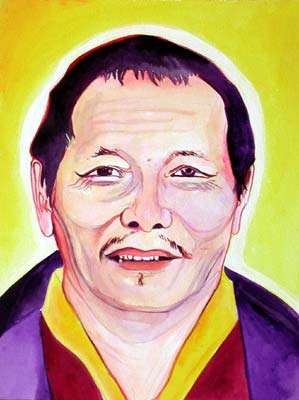 This is a painting of the head Lama (Abott) of the monastery in Woodstock, with whom I took refuge, Lama Khenpo Kathar Rinpoche. His eyes show a strong and deep compassion.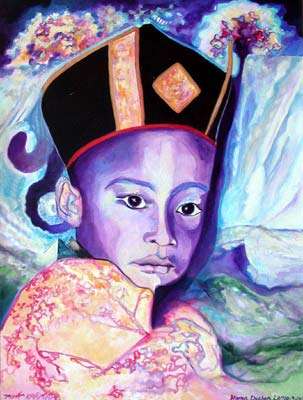 The painting above is of the new 17th Karmapa. made from one of the first photographs that was available of him. For years I have had dreams connected to the monastery in Woodstock, which is his North American home. The night before I took refuge there in real life I had a profound dream in which I took refuge with the Karmapa. An outstanding feature of the dream was how I saw his eyes, liquid black, deep, intense.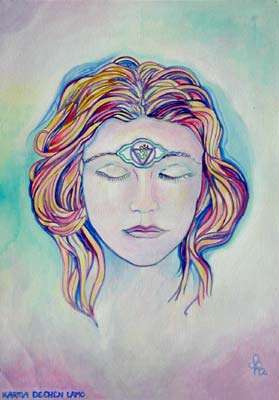 This painting is signed Karma Dechen Lamo, the name I was given when I took refuge in 1990. It is an inner-self portrait commemorating that time.
This was the first painting is a series of Chakra Goddesses. they were followed by a series of paintings of the chakras, which became my Chakra Mandala and Chakra Tarot card decks.
Hindu Paintings:
Lakshmi
acrylic on canvas, 24 x 30
Lakshmi is a mother goddess, she sits on her lotus flower in a sea of milk, which is stirred up, and active. The milk is a symbol for the aetheric fluid from which all things come forth, further indicated by the milky way and starry field above her. Lakshmi is very popular since she is associated with wealth, prosperity, and productivity. She also is associated with hard work. The elephants, who are pouring water over her, are removers of obstacles to your success. Her colors are vital reds, rose, and she has an abundance of gold and jewelry, coins fall from her hands. The original picture that this painting is based upon is a photograph of a drawing that is on the wall of a temple in India. The photograph was given to Dirk in the 1980's by a friend who had been there.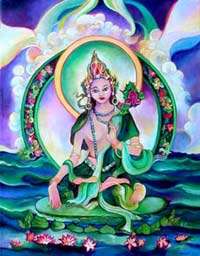 Tsunami Tara
This Tara painting was a commissioned piece. Carol will paint you your own special Tara or other diety, for a 24 x 30 painting on canvas the price is $650, plus shipping. Please contact us by email:sun19@earthlink.net
POSTERS AVAILABLE!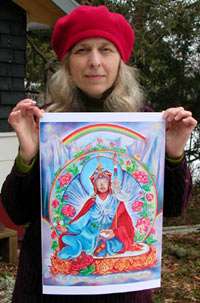 SHOWN ABOVE, PADMASAMBHAVA POSTER ON 13 X 19 PAGE