I lived in Charleroi from 1956 to 1965, and then I moved to Brussels.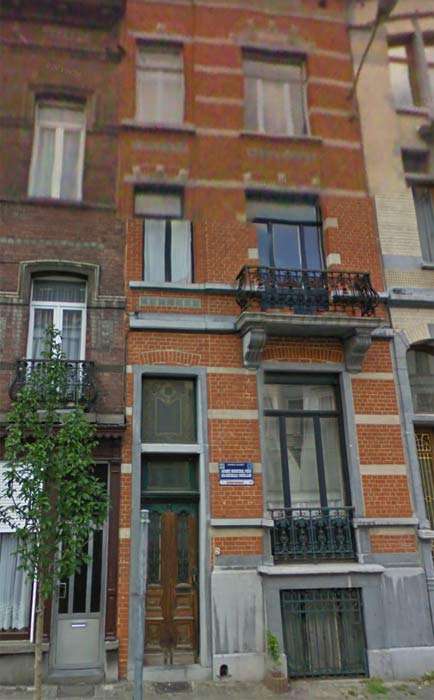 House in Schaerbeek, Brussels, where Joska Soos lived with his second wife.
In Brussels I occupied myself only with painting. My wife actually wanted that. She was making enough money as a translator in English, French and Spanish. She said: "Continue what you are doing." Of course, she hoped that my work would become famous, and that I would be able to earn money with it. I had regular expositions, and in 1970 they made a color film of thirty minutes of my paintings. But to become famous, other things are needed. Talent by itself is not sufficient. In any case, what I earned from my paintings was not enough to sustain a family, despite the fact that I was mentioned in a lot of art books. But I continued painting because I noticed that when I stopped painting for about ten days or two weeks, I got a headache that was so severe that no painkiller worked. It had to come out. I had to paint.
Art is a spiritual exercise for me, like the Zen monks who do calligraphy or paintings as an exercise. That is why I already have hundreds of paintings, and I keep on working. I am convinced that they will find their way.
Joska drawing the light-sound beings, while he lived in Brussels


One day it went wrong. I remember it very well, it was October 3rd 1975, because it was a protestant holiday. That is the day when Luther nailed the 95 dogmas of the Reformation on the church door of Wittenburg. That day my wife came back from Mexico City, where she had attended a Congress as a translator. And yes, she had a hotel boy over there, who was working at the bar, a boy of 26 years old, and she was 40. That was the fear of getting old. She came back and told me that couldn't live with me anymore, and she wanted to return. That was a catastrophe and it was so suddenly. We were happily married for 16 years and we had a daughter. So, in every sense we had a happy marriage. For me it was a tremendous catastrophe. I had all kinds of dark thoughts: to kill her, to commit suicide, to kill us all. I wanted to destroy everything.
Then I started to drink, but that lasted only two weeks because I noticed that it would not solve anything. I felt cornered, and whatever I did, did not solve the problem. Then the sound came up in me. I began to shout as a wounded animal. I remembered that my master Tamas Bacsi did this also when something terrible happened to him.
For example, he had a horse that he loved so much, that it didn't have to do anything. All it did was being in the meadow. It was never saddled, or used to pull a wagon. One day it broke its leg, and I was present when they told Tamas, because somebody was running through town and shouting: "His gray horse has wounded his leg."
Nobody knew how this happened, but everybody wanted to see how the Old One would react. That is why I was running along, with about ten other people. When we arrived, and he listened to the news, he didn't say anything. He took his knife, a large knife that was used to kill pigs, and went to the meadow. There his gray horse was lying.
He was kneeling with the horse, and began to caress the neck of the horse, and whispered in its ear. He caressed the horse with his left hand, and then suddenly...this was not crying, he shouted, extremely wild, as a wild animal that is getting killed. At the same time he trusted the knife in the heart of the horse. The horse made two or three reflex movements, and it was over. It suddenly came up, that shouting.
That also happened another time. He had a granddaughter who had diphtheria, and her throat was being squeezed shut slowly. He couldn't heal her. I didn't see it happening, but others told me. He stayed with her and sang softly. When the child had her last convulsions, Tamas shouted violently, as an animal. That shouting also came up in me when I was feeling so powerless.