This happened in Jaisinagar village, located in Sagar Tehsil of Sagar district in Madhya Pradesh, India.
Rainfall of coins from sky in this village of Madhya Pradesh ... know what this strange event is
So far, you have heard this many times that the fish and turtles have fallen from the sky in the rainy season, but perhaps maybe you heard it for the first time that coins are raining with water. It is not one coin, or two, but hundreds of coins. This incident, which seems impossible and strange in the first place, is being reported in Devlochri block of Jaisinagar village. On Wednesday, there were heavy rains with thunderstorms in the district. In the afternoon it was dark with clouds, then in this village, coins start falling from the sky with water. In the village there were dozens of witnesses, including children. People listened to the story and were speechless. Some people went out to collect the coins. Although by that time the rain had already stopped, and some children were seen with coins in their hands in the middle of the rain.
What the villagers say
Villager Hemraj Pal said that he was returning home after bathing, and that there was a crowd of children near the house, and he was very upset, and asked if the coins from the sky were hot. At first, he did not believe it, but when he came to see the scene himself, it was correct, and he said that as soon as the coin fell, they would make noise hitting the ground. There were all coins of one, two, five and ten rupees. Apart from this, some children of the village, Bira, Shiva, Jaya, Deepesh and Som, have collected hundreds of coins.
Coins falling in two to three places.
According to information from the villagers, coins have fallen not in one place but in two to three places. Children and adults saw coins fall in the village Panchayat Bhawan, at the river banks and at the hillside.
Source: Patrika.com, Hindu news website, September 21, 2017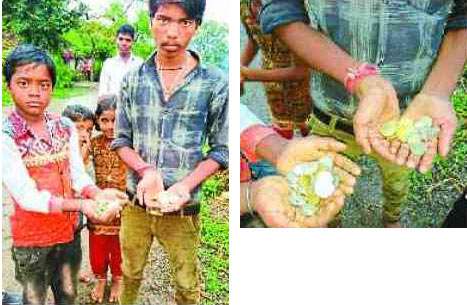 Another Reason to Head to Boylston:
Money Falls from the Sky It's a mystery wrapped in a $2 bill.
This has got to be one of the better occasions police have had to head to Boylston Street in recent weeks: Bystanders reported that a bunch of U.S. dollar bills, mostly in the odd $2 denomination as far as we can tell, began falling from the sky Thursday afternoon. As the money fell, people began scrambling to find it and … tweeting about it, of course:
WBZ's Carl Stevens says police "followed up" on reports of falling money. ("There's money falling from the sky? We'll be right there. Joe, put on the siren," is probably how that conversation went.) The identity of Boston's Uncle Pennybags remains a mystery. (If it was you, let's be in touch.) Universal Hub and Stevens suggest it came from 745 Boylston, across from Lord and Taylor. Boston's prolific Twitter personality Michael Ratty reports that the people in the windows were actually looking up at the falling money themselves.
"Still not sure who did it," Ratty says, but adds that it was a nice moment. "To see a few hundred people all at once stop dead in their tracks and look at the sky and smile and take photos was great—especially considering exactly where we were standing."
Indeed, and hey, everyone's been spending the week trying to encourage people to return to the Back Bay, spend some money, and help affected businesses. Maybe some good Samaritan is just giving us a little stimulus cash to get the spending started. Get thee to the Back Bay and this could be you! Just be sure to spend it on a good cause.
Source: Boston Magazine (Boston, Massachusetts), April 25, 2013
[$2 bills are seldom seen in circulation as a result of banking policies with businesses. It is comparative scarce in circulation.]
RAINING PENCE IN MELBOURNE.
Melbourne June 26.
It is raining pennies (and florins) in North Melbourne. Every evening for two weeks people Glass street have been startled by coins which have landed mysteriously in the street. They range from half pennies to 2/- pieces and arrive in batches of two or three at a time. One man was hit on the head with a 2/- piece as he cleaned his car in the street tonight. John Wade, 12, of Glass Street, said tonight that he and his friends, Martin Crowley, 13. and John Colla, had picked up 2/7 in a few minutes. 'Thls is beaut,' he said. 'I hope it keeps up, but a police man was down tonight having a look round.' The policeman, Constable K. G. Longman, said: 'I answered a call to-night thinking I might find a two-up school. But I never expect to to see money flying through the air the way it did. 'Soon after I got there I heard a tinkle and saw a half-penny whizzing along the street. 'The coins were coming over two or three at a time and the kids were having great fun. One had collected about 6/-. 'Someone is apparently tossing the money over a house roof or from the top of one of the factories in the street. 'The thrower is apparently doing it for a joke, but it is a pretty expensive joke.'
Source: Townsville Daily Bulletin, (Qld., Australia), 27 June 1953, page 5
Different newspaper about the same event:
Pennies turn to turn to "silver"
Down rained the coins again in Glass St., North Melbourne, last night - for the third night in succession. And this time some of the coins were wrapped in silver paper. At least three children picked up wrapped pennies, halfpennies, or shillings. The coins fell from six o'clock on, at intervals of no more than half an hour.
Adults watch
Scores of children went after them with torches and matches, while curious adults watched. The coins fell with reasonable accuracy within 30 yards of each other on the narrow, drab street. One resident said the coin thrower could be some old man who used to live in the street, "giving the kids some fun." But searching of the low houses and chimneys lining the street revealed no thrower.
Source: The Argus (Melbourne, Vic., Australia), 27 June 1953, Page 3
A RAIN OF MONEY.
Genoa (Italy) has its ghost, with this peculiarity—that people run after it instead of fleeing for their lives. No one has seen the ghost, but its presence is indicated by a rain of money! Every evening, between 6 and 7 o'clock, pennies begin to drop in a certain locality, and from 10 to 11 the rain is of silver. Where they come from has not yet been ascertained, and the people of the neighbourhood really believe that it is the work of spirits. This strange happening has brought many strangers to the neighbourhood, not with an idea of making their fortunes, as no single person has yet collected more than from one to two lire in one day, but certainly with an idea of getting "drink money." The only fun-keeper of the neighbourhood gets most of the pennies, for which he gives good red wine, so much so that he has been accused of having invented this novel way of advertising his wares; but his protest that he has no money to throw away is so confirmed by the appearance of his wine-shop that it is generally credited with being the truth. That the spirits, if spirits they are, are bad. is shown by the fact that among their silver pieces, two of them mere false, which almost got the person who was unfortunate enough to pick them up into trouble. Can they be a kind of ghastly coiners of contraband money? The police have the matter in their hands. and meanwhile the new kind of rain continues unabated.
Source: Evening News (Sydney, NSW, Australia), 4 November 1905, Page 9
Showers of Money.
EXTRAORDINARY SCENES IN TRAFALGAR SQUARE.
Extraordinary scenes were witnessed during last month in St. Martin's Place. Trafalgar Square. Just as the theatres were discharging their audiences, showers of coins were scattered by an unknown hand from above. The coins included silver, and on one occasion a half-sovereign [this is a gold coin] caused a fierce struggle. The police were in a quandary, for although the coins seem to come from one of the houses adjacent to St. Martin's Church, neither the precise place nor the identity of the amateur Carnegie could be determined, On Friday the traffic was blocked for the best part of half-an-hour whilst hundreds of people — mostly newspaper sellers, out-of-works and street venders — scrambled in the road for the money, pushing, hustling, swearing, and sometimes fighting. On no occasion had the free distribution lasted longer than half-an-hour, but, coming as it did at the most crowded time of the night, from 11 to 11.30 p.m., the affair threatened to develop into a serious menace to the public.
In the neighbourhood in which the showers fell are a vicarage of St. Martin's, a number of offices, and some flats. It was a visit to the flats that solved the mystery. In the course of an interview the housekeeper explained that the source of the showers was the top floor flat, which is engaged for a month by American friends of the occupant, two goodhearted young fellows, who, seeing the misery of some of the poor beggars in the West End, resolved upon this means of alleviating their sufferings. "But I told them it was quite wrong." added the house keeper, "I told them that they must not do it, as it caused an obstruction, and that they were liable to arrest. There were enormous crowds opposite the railings at the National Gallery again on Friday, but the young men took my advice, and despite the whistling and bowing and scraping and cheering, no money was thrown. The Americans themselves were standing at the window, and raising their hats repeatedly to the crowds.'
Source: The Maitland Weekly Mercury (NSW, Australia), 16 September 1911, page 7
[The explanation does not make sense. When you want to give money to beggars you give it directly to them. Throwing it out of a window, everybody is going to pick it up. Silver and gold coins are very valuable, and is something one would not give to a beggar.]
The story was also mentioned in Geelong Advertiser (Victoria, Australia), 13 September 1911, page 5, in which it was said that "pennies, half-pennies and at rare intervals, silver coins, have fallen almost every evening...". It happened after dark, and the police could not find the origin of the money shower.
MYSTERY HOUSE
A RAIN OF PENNIES
Strange happenings in a house in Battersea have so alarmed the occupants that they no longer, stay in it at night (says the London "Daily Chronicle"). Furniture, they say, has been thrown down, glass doors broken and missiles hurled about from unknown sources. Crowds of people daily gather outside the house waiting for "something to happen."
The occupiers of the house are : Mr. H. Robinson, aged 86; Mr. F. Robinson, his son; Misses L. and K. Robinson, son, and Mrs. A. Perkins, daughters; and Peter Perkins, aged 14, grandson. According to Mr. F. Robinson, there have been thrown into the house enough coal to light two fires, sufficient soda to fill a pickle jar, several pounds of potatoes, about a shilling's worth of coppers.
Mr. Robinson, who is a private tutor, said: "On November 20 lumps of coal began to fall on the glass roof of a little conservatory at the back of the house. We found, too, some potatoes and three pennies. "This continued for two or three days in December. We complained to the police, and a constable was struck on the helmet while in the garden. "On December 19 our washerwoman found the outhouse littered with hot cinders; although there was not a fire in the house. A constable came round again, and while he and I were sitting in the kitchen two potatoes were thrown in. On Monday, while my sister and I were standing in the doorway of the front room she exclaimed. 'The hall stand is going.' I saw it swaying forward, and when I tried to hold it back found that I could not do so, and it fell with a crash. "On another occasion I was getting up, rather late, when I heard a tremendous knocking at my door. I went outside and saw that a linen basket had been burled right across the landing. My sister, who was in her room, gave a shriek, and I heard three knocks. My sister shrieked again, and when I got to the room I found a chest of drawers had fallen over. "As we were taking my father downstairs the glass of his door was smashed. My father was taken to the infirmary with a cut on the head caused by a jagged piece of soda. After the experience of Monday we no longer sleep in the place, but go to friends. Before leaving, I lay what furniture I can on the ground so that it cannot be thrown down. "We have lived in the house for 25 years."
Source: The Telegraph (Brisbane, Qeensland, Australia), 29 February 1928, page 14; The Kadina and Wallaroo Times (SA, Australia), 27 June 1928, front page
Russian Rain
During a violent thunderstorm July 16 collective farmers in a Russian village near Gorky were startled to notice silver coins landing near them. They hustled the coins to archeologists in Moscow and were told this week the coins were 16th century pieces. The professors theorized that they were part of an undiscovered treasure exposed by erosion and sent flying by the storm. A search is expected to begin soon.
Source: Reading Eagle (Reading Pennsylvania), Aug 11, 1940, page 6 [Coins are too heavy to be picked up and fly around in the air. But a vortex/portal might have been active at the site where the coins were exposed, unless it was located at somebody's coin collection]
Another newspaper about the same event:
Silver From Heaven.
In the village of Meshchera, near Gorky, silver rain fell during a thunderstorm. The oval-shaped silver pieces were the size of large fish scales. Farmers brought samples to Moscow, where they were identified as late sixteenth -century coins. A professor expressed the opinion that they were lifted by a cyclone from some nearby ancient remains of dwellings, where the coins had been exposed by erosion.
Source: The Independent (Deniliquin, NSW, Australia), 17 July 1941, Page 5
"Money falls from sky in German town. BERLIN.
A German motorist surprised by euro notes swirling in the air around her car hit the brakes and collected a "substantial amount of money" before turning it over to police, authorities in Worms said on Thursday. A police spokesman in the small western town said the 24-year-old woman saw the money flying through the air in her rear view mirror late on Wednesday. She pulled over and tried to collect all the notes, unsuccessfully. When police went with her to the scene they could not find any more cash. A spokesman at Worms city hall said police were withholding details on the exact sum and location of the find in the hope of learning more about the money's origin."
Source: Reuters Jul 5, 2007
Mysterious Rain of Money Falls From the Sky in Kuwait City
A large amount of paper money fell from the sky over Kuwait City for real recently and so far, no one has come forth with an explanation or to claim it. The rain of cash occurred on the afternoon of February 11. Before the shower of buying power was over, an estimated 2 to 3 million AED (United Arab Emirates dirham) worth between $544,000 and $817,000 (US dollars) fell, mostly in 500 AED notes worth about $136 each. Witnesses say the rain of cash fell for a few minutes, stopping traffic as people ran to pick up the bills. Initial reports had the money raining down in Dubai but the video shows the Burj Jassem shopping mall in Kuwait City. The confusion may have been caused by the currency, since the AED is the currency in Dubai while the Kuwaiti dinar (KWD) is used in Kuwait. Whatever the floating currency was, no explanation has been given for the money shower or how it was counted and no person, bank or rich prince has claimed it.
(Source: Mysterious Universe website, posted on February 27, 2015)
A Capital Mystery
SACRAMENTO (SMWNS)
When Mat Jameson walked into his back yard Sunday to check on his new dog, he found her rolling in dough - of the spendable variety. Jameson's Fair Oaks lawn was covered in $20 bills, and his black Labrador, Beauty, was having a ball. 'There was money scattered everywhere," Jameson said. "The dog was playing in it, ripping it around. It looked like the money was growing on the lawn, like grass." Jameson wasn't the only resident to stumble on a really green lawn. Three others in the neighborhood made similar discoveries. It was like pennies from heaven, but to the tune of $10,000. "It seems this money fell from the sky," said Sacramento County sheriffs spokeswoman Sharon Telles. "It's the most bizarre thing I've heard of in a long time."
Source: Lodi News-Sentinel, Lodi, California, Nov. 15, 1995, page 18
Money Falls From Sky
CHICAGO (AP) Nearly $600 remained unclaimed Tuesday after the money in crisp dollar bills floated over Chicago's business district, Allan Davidson, 37, said lie was walking along LaSalle Street near the Northern Trust Bank on Monday when the money began falling. "All of a sudden money was flying down from the sky," he said. Several passers-by who thought the money belonged to Davidson began helping him pick it up. So did police officer George Sullivan, who was directing traffic at a nearby intersection. When Sullivan turned the money iii to police, it totaled $588. Henry Frankel, vice president of banking at Northern Trust, said none of the bank's departments nor any of its depositors reported any money missing.
Source: San Antonio Express (San Antonio, Texas), December 25, 1974, Page 17
These are newspaper reports I found here and there, but I was not able to find the original newspaper articles.
On 3 December, 1968, the London Daily Mirror reported that people who were shopping at Ramsgate in Kent, England, saw coins falling on the pavement. The woman who witnessed the event, Jean Clements, stated to the paper, "Between 40 to 50 of them came down in short bursts for about 15 minutes. You couldn't see them falling. All you heard was the sound of them hitting the ground". No tall buildings, and no airplanes were above the area. (from The Missing Link by Andre Steven Madrid)
In 1957, thousands of 1000 franc notes fell onto Bourges, France, and in 1975 hundreds of one dollar bills totaling $588 rained on Chicago, Illinois. Over $7000 once fell on McClellan Highway in East Boston, Massachusetts.
In 1976, two clergymen watched as 2,000 marks worth of fluttered down from a clear sky in Limburg, West Germany. (reported in The Bath and West Evening Chronicle, 6 January 1976)
There was a local sky above Italy when twice in the course of a week banknotes rained down from the heavens and were blown about by high winds. At least £8000 fell in Mantova, and an estimated £5000 worth of lira fluttered down upon the streets of Frosinone, near Rome. The police remained baffled as to where the money came from. (Sunday Telegraph, 16 Jan 2000)
Pennies and half-pennies fell around children leaving school in Hanham, a suburb of Bristol, England one day in 1956.
Thousands of 1,000 Franc Notes rained down on Bourges, France, in April 15, 1957. No one claimed the notes or reported any loss.