Chapter 5
"Whilst there are many who are dead and yet are seen walking on the streets, there are others who lie entombed but who are really alive."
Al-Kharaqani.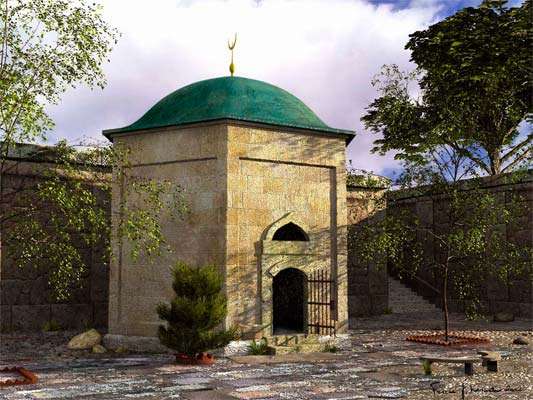 Gul Baba tomb
In the old part of Buda in Budapest, on a hill overlooking the Danube, stands the octagonal tomb of the Bektashi dervish Gul Baba. He lived in the sixteenth century and was a Spiritual Successor of Sari Saltik. Gul Baba died shortly after the city was taken by the Turks.
Sari Saltik crossed the Black Sea seated on a magical carpet given to him by Haji Bektash himself. When he set foot on Bulgarian soil, he found his way barred by a seven-headed dragon. With the help of Khidr he slayed it. Dervishes wandered and settled in all parts of the Ottoman Empire. Still today, in regions of the Balkans where Muslim culture persists, one comes across active Sufi groups.
When Sari Saltik had died his corpse was found in seven coffins. He had multiplied his body to satisfy the several Sufi centres he had founded. Ibn Battuta mentions a tomb of Sari Saltik in the region between the Djnieper and the Crimea. Other sources locate his tomb in the Dobruja province in Bulgaria. In 1976 while visiting the Friday Mosque in Constantza in Romania I met a Turkish speaking man who certified to me that the real tomb of Sari Saltik was at Babadag near the Russian border. But when I journeyed to Babadag and began a search for the tomb, I found no one who was able to indicate its placement.
In the village of Hagibektas in Turkey lies Haji Bektash entombed in his convent.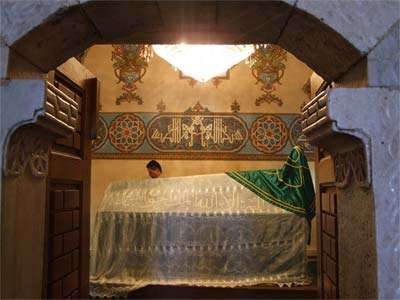 Haji Bektash-Veli resting place
He died around 1335 at an advanced age. Already at the age of four he was initiated by a Spiritual Successor of Ahmad Yasavi. One day while he was being instructed, Ali, the first Shi'a Imam and the Possessor of the Mystery of Sainthood, appeared to him revealing many secrets and endowing him with superhuman powers. He received the title Haji when he was seen travelling to Mecca in his astral body. Many tales in the hagiography of Haji Bektash show him as uniting in his saintly person the character traits of the mystic, the magician and the hero. He is always intrepidly fighting for his cause, never compromising.
Sent out by Ahmad Yasavi on spiritual conquest, he journeyed from Khorasan via Badakhshan to Anatolia, bringing down calamities on people who opposed him, materializing dragons, turning attacking lions into stone, conversing with fishes and having occult psychic battles with other dervishes. Ultimately Bektash was crowned with a 'turban of light' belonging to Ahmad Yasavi that came flying through the air.
In an old painting Bektash is depicted as holding a deer and a lion in his arms. The animals look lovingly up at him. In contrast to ordinary mortals Bektash is not in conflict with the world of the animals. They are his friends. He knows their language and has acquired their qualities.
Haji Bektash is typical of the wandering babas of those days who followed armies on their campaigns, travelled in armed bands of dervishes or who were lonesome errants. It was a time when dervishes rose in armed revolt against wordly rulers and founded theocratic communities. Haji Bektash was also revered by the followers of Ishak Baba who had led a revolt against the Seljuk Sultan near Amasia. Bektashis were among the first who fought their way into Constantinople in 1453. It is not surprising that Haji Bektash became the patron saint of the Janissaries.
The migrating miracle-working babas from Turkestan influenced and strengthened the already existing tradition of the wandering qalandar and malang (Malang (Pers.): ecstatic wandering dervish).
Bektashis were called 'accursed ones' because of their unorthodox conceptions and customs: they were accused of not performing the five prayers, of drinking wine and admitting women in their order.
A tomb I was attracted to many times is the presumed tomb of Daud or King David in Jerusalem. Although it is cared for by Jewish attendants, Muslims still visit the place. Opposite the burial chamber is a small mosque. The atmosphere is particularly suitable for inducing states. A tradition holds that before Ali, King David was the repository of the Secret Treasure of the Sufis.
The veneration of Jewish prophets and kings by Muslims is explained by the fact that Muhammad considered that the Jewish prophets had been sent before him by Allah to reveal parts of the truth to mankind.
After his miraculous nocturnal journey from Mecca to Jerusalem, and before ascending to the Seven Heavens, Muhammad, his body asleep but the 'eye of the heart' fully awake, prayed with the prophets of the past (Moses, Solomon, Jesus) at the place where the Dome of the Rock now stands.
In Bistam, North Iran, and twenty kilometers beyond Bistam in Kalat-i-Nau Kharaqani are the mazars of, respectively, Abu Yazid al-Bistami (ninth century) and his Spiritual Successor Ali al-Hassan al-Kharaqani (eleventh century).
Al-Kharaqani visited the tomb of Abu Yazid daily for twelve years before having a substantial contact with the saint. About Abu Yazid he said: "To the world Abu Yazid is dead, but for me he is still alive and knows all my activities."
Al-Kharaqani is renowned for his extraordinary gifts of clairvoyance, perfect wisdom and baraka. One day a dervish visited al-Kharaqani. After some conversation al-Kharaqani embraced the visitor, who instantly felt a spiritual power pervading his whole body. But the power was so strong that the dervish passed the entire night in constrictions and psychic disturbances. The next morning he went back to al-Kharaqani and asked for release from the power he had bestowed on him the previous day, as he was not so advanced to be able to integrate this new state. Al-Kharaqani again embraced his friend and the dervish regained his former stage.
Usually the living Sufi receives guidance and baraka from a dead saint, but in the relation between Abu Yazid and al-Kharaqani it was the long deceased Abu Yazid who was helped by the visits of al-Kharaqani. One day al-Kharaqani heard a voice from the tomb: "0 Hassan, all my present spirituality is a gift from you to me." Al-Kharaqani replied: "How is it possible that I, who was born many years after you had already died, can confer blessings on you?" The voice from the tomb answered: "In my spiritual stage there was still some derangement. Coming back to my tomb, I saw it bathed in light. A voice then told me to contact that radiance. When I did so my difficulty vanished and seeing that you were the source of that light I thank you for it."
In Kunya-Urgench in Soviet Turkmenistan is the mausoleum of Najmu'dDin Kubra.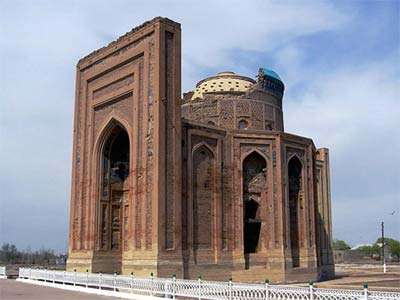 mausoleum of NajmudDin Kubra
His masters were the founders of the Suhrawardi tradition. The power of his baraka was so phenomenal that the title of Maker of Saints was given to him. Anyone on whom his glance fell in moments of up-surging baraka attained sainthood. This transforming power emanating from him also extended to birds and animals. Once when the saint was standing entranced outside his house his gaze fell on a dog. Instantly the behavior of the animal changed. Wherever the transformed dog went, other dogs would gather in a venerating manner around it. When the dog died the saint gave the order that the animal should be buried and that a structure should be raised over its grave.
In Samarkand stands the mausoleum (Guri Amir) of Timur Khan and his Naqshbandi teacher Sayd Baraka.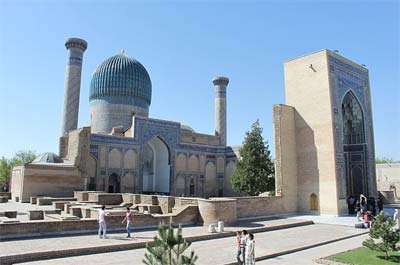 Mausoleum of Guri Amir in Samarkand, Uzbekistan
Timur Khan tombstone in the middle, and tombstones of his two sons, and Said Baraka.Notice the green slab of jade, which was the largest slab of jade in the world at that time.
Timur had it built in 1386. To the left of the entrance one can still see the ruins of what was once a dervish convent. Timur was a religious minded person. He was accompanied on all his campaigns by dozens of babas on whose supernormal powers he relied for his victories. He himself believed that he was protected by Ahmad Yasavi.
Behind the mosque-like facade, under the blue ribbed dome on a high drum raised on an octagonal base, lies Timur's dark nephrite (jade) tombstone. It is difficult when one looks at the dome not to associate it with a dervish cap. The cap of a powerful baba is often believed to be endowed with the qualities of his spiritual stage and to be able to transfer these qualities to a person on whose head it is placed. There are many accounts of miraculous transformations when a cap of a powerful dervish was placed on the head of a disciple.
There is a tradition which relates that Muhammad transmitted to Ali a turban of light that was passed down through several Shi'a Imams to Abu Yazid Bistami and al-Kharaqani and further to Yusuf al-Hamadani and Ahmad Yasavi. When haji Bektash during a psychic battle with other dervishes ascended to the Throne of Allah, it is said that the turban of light conserved at Ahmad Yasavi's mausoleum came flying through the air and put itself on Betktash's head.
Ahmad Yasavi. When Haji Bektash during a psychic battle with other dervishes ascended to the Throne of Allah, it is said that the turban of light conserved at Ahmad Yasavi's mausoleum came flying through the
air and put itself on Bektash's head.
Baha'ud-Din Naqshband as a young man received in Samarkand from an unknown person the headpiece of one of the Khajagan. When he placed the cap on his head he became a transformed man.
In the summer of 1973 1 travelled from Afghanistan to Soviet Uzbekistan. After some difficulties with the authorities I obtained a permit for a three day stay in Samarkand, once called 'The Light Point of the Earth'. I had come to Samarkand to visit the tombs of Kussam-ibn-Abbas and Khaja Ahrar. The first evening I had a vague vision of a tall ascetic looking old man with a goatee beard, dressed in a rather dark cloak and wearing a black turban. I associated the old man with Kussam-ibn-Abbas, but his features were not Semitic. The vision repeated itself when I turned off the light; I recognized now the old archetypal Sufi from the dream with the broken Tibetan statue.
The first monument I came across in the morning of my arrival was Timur's mausoleum. Thinking of Timur as a mere conqueror I did not pay much attention to it. The next morning, having expressed the wish to visit the countryside and having met with a refusal from the concerned officials, I went out alone to the bus station and jumped on the first bus leaving for an unknown destination. The bus drove southward to Kitab. In Kitab I took another bus. The excursion ended in Shahr-i-Sabz where the ruins of Timur's palace, near his birthplace, can still be seen. I got back to Samarkand in the late afternoon, took a rest and walked to the tomb of Kussam-ibn-Abbas, 'The Living King', but found it locked. Again wrong information. Disappointed I strolled back along the Bibi Oanum Mosque to the fabulous Registan Square. As I sat down looking around aimlessly, all of a sudden it was as if a curtain was torn open before me and in the golden dust of the setting sun I had a vision of throngs of Uzbeks on foot, on camels, donkeys and horses, moving in a certain direction. All wore magnificent traditional clothes. Hypnotized by that splendid sight I got up and followed the crowd. The strange luminous and half transparent beings led me through small clay-walled streets to the Gur-i-Emir, Timur's mausoleum! The door of the mausoleum was open-no guard, nobody. I walked through the dark hall inside the mausoleum. The atmosphere was heavily charged. I sat down between the tombstones of Timur and Sayd Baraka and began an absorption exercise.
Timur's tomb
I saw and felt spirals of etheric energy under the dome. The spirals twirled downward and penetrated my body. I began to sweat intensely as I had never sweated before in my life. One moment I thought my heart would burst, but I sensed no real physical pain. A heavenly floating sensation arose in me. The density of the subtle energies increased. I prostrated myself upon Timur's tombstone. After some time I became aware of a presence, someone was gazing down upon me. When I looked up, I saw again the noble old man from the vision of the day before. He stood motionless in front of me. To his left I saw also four pillars under the dome, that had not been there before. The old man ordered me to stand up and make the pillars turn. I hesitated, then stood up and tried to move the pillars: they were pillars of baraka. First they moved slowly; gradually their rotation became quicker until they became whirling spouts. They expanded until they merged into each other. I stood in the midst of an immense whirl of compacted etheric energy. I myself began to whirl. Slowly my body dissolved and was transformed into a blazing effulgence. In the pillarless sky I lost all notion of time and place. After an eternity or a second I found myself again between the dark nephrite stone and Sayd Baraka's grave. Out of the mural decorations emanated mythical birds. Looking upwards I saw the dome of the shrine descending upon me. The walls of the mausoleum seemed to dissolve into an illuminated substance. The air was full of vibrating energy. I was lifted up by unseen forces. I became aware that I was sweating heavily again. With each drop of sweat I became lighter and lighter. My head expanded towards the approaching dome, until the dome rested on my head as a radiant giant turban. I was ablaze with energy. Later, I remembered the words of the poet: "When the sky disappears, the dome of the Gur-i-Emir takes its place."
From Samarkand I travelled to Bukhara. In Bukhara the officials were extremely unhelpful. Many mazars seemed to have disappeared. Only in the afternoon of the second day was I successful in getting to the sanctuary of Baha'ud-Din Naqshband. I had almost lost all hope of seeing the place, when a young man accosted me and asked if I was a believer. He told me to meet him again at two in the afternoon. At the appointed time he arrived in a taxi. Introducing the driver he said: "He is also a believer." When we reached the place I found the sanctuary closed and was only allowed to look at the mazar through a hole in a door. Looking through the hole I met with an immense flash of light.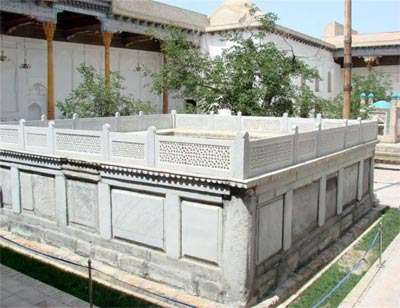 Bahauddin Naqshaband tomb
The monument over the tomb is a rectangular platform about eight meters long and two meters high. Before the Russians occupied Bukhara the tomb was covered with old bushes and grass, with horns of rams and with the usual rags which decorate many sacred places. There is a black stone which is supposed to cure all maladies of the head. In the mosque of the sanctuary are holy springs. The water is believed to have healing properties.
Dynamic visions of light are a bestowing of blessings. At a given stage effulgences and brilliant apparitions may occur. Some visions of light are so strong that they may rouse deep emotion because of their quality of overpowering all contents of the mind.
That same night in the hotel I had an out-of-the-body experience. I found myself in a Central Asian plain. It was freezing cold and the earth was covered with a thick crust of snow. I was not going anywhere. The air was grim. From the left emerged an enormous creature marching with heavy mechanical steps in my direction. It was dressed in a long sheepskin coat and wore on its rudely carved head a leather dervish cap. Its rude face bore no expression. I was irresolute about what to do. The creature was now standing in front of me and began to sway as if to prevent me from running away. The creature raised its colossal left fist ready to strike me on the heart. The blow was terrible: it was as if my heart was torn out. I was choking and thought that I would die, but it did not happen. The monster was still standing in front of me and lifted again its fist to strike me a second time, when the same noble old Sufi (from the dream with the broken statue and the visions in Samarkand) loomed up, half running and half floating, out of the grey air and stretched out his right arm in a commanding gesture just in time to stop the creature. It obeyed, dropped its fist and became motionless. The majestic old man looked coldly into my eyes without uttering a word. We stood for an emotionless eternity in the frozen vastness: the old Sufi, the monster and I.
A few kilometers north-west of Kandahar, near Baba Wall, one can see on a deserted mountain side the open-air mazar of Shah Husseini Baba. The tomb is remarkable both for its architecture and its baraka. It is the longest mazar I have so far come across: it is nine meters long and more than one meter high. Parallel to the main tomb is an equally high but smaller mazar. The sepulchers are enclosed by a circular wall. The whole structure is made of rocks and naturally polished boulders skillfully piled up. Near the entrance stand two low buildings. One building was always locked whenever I visited the place. The other is open on one side, probably serving as a shelter for wandering dervishes and pilgrims. At the head of Shah Husseini Baba, built into the encircling wall, is a womb-like hut. The powers emanating from the tombs possess healing and purifying qualities.
Behind the mountains north of Kabul is a small village where is situated the popular mazar of Padshah Saheb. It is an open-air shrine, more than four meters long and two meters wide, with green and red pennons fluttering on high poles placed at the head of the grave. Every week miracles and healings are ascribed to the saint.
When I visited the mazar a large group of pilgrims was present. On one side of the tomb eight men were doing loud zikr, while their heads and upper bodies made rhythmical movements. Before I got out of the car I came in telepathic contact with the mazar and the people around it. Some men came forward and asked me if I was a Muslim. The men embraced me and led me through the crowd to the tomb. The group doing loud zikr were Qadiri dervishes. Having made their acquaintance they invited me to accompany them to the far end of the valley, to visit the tomb and mosque of Sad ud-Din Ahmad Ansari.
On the way to Sheikh Ansari they halted for a short ceremony at a spot where some people were gazing attentively at a deep hole. One of the dervishes explained to me that it was the place where centuries ago a famous malang had disappeared from this world.
After a rough drive we arrived at our destination. Inside the mausoleum they started again performing their loud zikr and jerking body movements until they reached a state of complete exhaustion and rapture. I joined them in their exercises. At a given moment one of the dervishes collected the dust from the tomb and ate it.
Sheikh Sad ud-Din Ahmad Ansari was a descendant of Ali. At the age of nineteen an ecstatic state overwhelmed him and lasted for nine years. The first six months of that state he was a mast. He wrote treatises on the diverse possible states and stages of the Sufi. He died in 1812.
Outside Srinagar in Kashmir, against a mountain, is the simple open-air mazar of Hazrat Sayd Ibrahim Balkhi. The tomb is remarkable for the strong scent of roses that emanates from it.
At Kalyar near Roorkee in North India stands the mausoleum of Hazrat Ali Ahmad Sabir.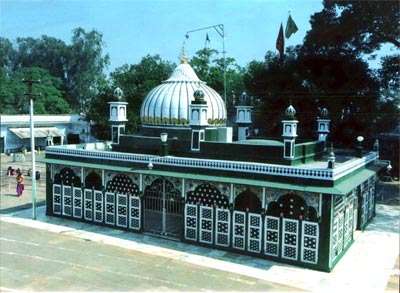 Alauddin Sabir Kaliyari mausoleum
Sabir was a wrathful type of dervish, expressing the terrible aspect of divine powers. His contemporaries named him: 'The Wrathful Sword of Allah'.
While still in his mother's womb, his mother used to see a brilliant red light moving up and down between her and the sky. She often heard Sabir talking. Before his birth he fought and killed a snake in his mother's womb. On the day that he was born in 1214, the roof of his house blew away and a reddish cloud was seen descending upon the child, while the atmosphere became charged with a strange perfume.
From an early age Sabir did not eat, his body being sustained by subtle energies.
His terrifying personality was such that, when he was in a particular state, powers emanated from him which killed anyone who came in his surroundings. So it happened that he was in such a terrible state when his intended wife was brought before him; she was instantly killed by the deadly powers emanating from him. More than once he caused a conflagration with his occult forces. Some of his biographers assert even that he destroyed Kalyar, and that for more than two hundred years after his death his terrible powers continued to cause havoc and destruction in and around Kalyar. Still today, except for a few shops and buildings, no houses are to be seen around the shrine. After two hundred years his destructive aura changed, allowing a mausoleum to be built over his grave.
For years Sabir stood under a tree, most of the time in a state of enchantment, at the place where his shrine now is. The only human being who could remain in his deadly presence was Shams ud-Din Turk, who had come from Turkestan.
Notwithstanding Sabir's terrifying personality Baba Farid appointed him as his Spiritual Successor. More than once when people complained and intrigued against Sabir, Baba Farid said that Sabir was more than a saint.
At his death, Sabir conducted his own funeral in his astral body in the presence of hundreds of saints, abdals (Abdal is the plural of badal. A badal is a Helper from an invisible world) and ninety-nine jinns. At times a glittering red light can be seen above the tomb. Sabir is considered to be a Qutub.
To the right of the main entrance is a dhuni or fire place where dervishes gather to drink tea, to smoke hashish and play religious music. At the time I was there they were preparing bhang, a cannabis beverage. When I inquired about the use of datura, a dervish replied: "Few dervishes take datura. Hindu sadhus smoke it. The preparation of datura is very delicate. If one does not know how to prepare it, it can produce premature old age without giving knowledge."
A night at the shrine of Sabir I was blessed with the astral vision of an assembly of fakirs sitting in front of a mausoleum. Some were cutting their fingers and ears. Two of them made attempts at cutting their throats and others were sitting erect with their decapitated head in their hands. Although the scene was bloody the atmosphere was serene. Out of the mausoleum now marched a giant, more than two meters in height, holding a club and a sword in his hands. His immense body was transparent and incandescent. As he approached me the power emanating of his body of translucent light increased, till I was unable to bear the sight of it.
At Makanpur near Kanpur in North India is the tomb of Badi ud-Din Zendah Shah Madari. He is the founder of the Madari order, which is considered as being outside the law. He died around 1440 at the advanced age of 150 years. The following story narrates his death and explains partly why it is explicitly stated by his followers that Shah Madari is alive in his tomb. Sheikh Madari was an out-of-the-body expert. He had given instructions to his attendant not to let anyone in his room when he was on such excursions. But one day his attendant disobeyed him and absented himself. An old woman with a sick child who had come to see the saint entered his room and saw him lying lifeless on the ground. The woman ran into the village, screaming and lamenting that the baba had died. The villagers came to his cell and started making preparations for his funeral. Suddenly Shah Madari sat upright and realizing what was happening, he asked them why they wanted to bury him without his permission. Great was their confusion. But seeing their bewilderment and distress he told them that after it did not make much difference to him and that they could as well continue with what they had already begun. Having thus spoken, the saint entered a state of concentration and left his body.