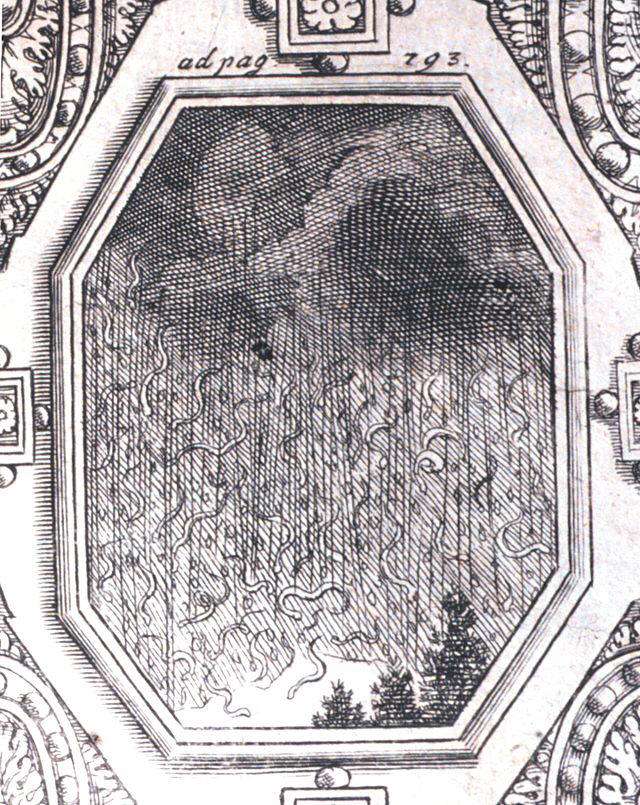 Engraving of raining snakes during a Rennaissance storm. In: "Der Wunder-reiche Uberzug unserer Nider-Welt...." by Erasmus Francisci, 1680
---
"Concerning the reported shower of snakes at Memphis on the 15th, the following is taken from the observer's report: Morning opened with light rain; 10:20 a.m. it began to pour down in torrents, lasting fifteen minutes, wind SW.; immediately after the reptiles were discovered crawling on the sidewalks, in the road, gutters and yards of Vance street, between Lauderdale and Goslee streets, two blocks, careful inquiry was made to ascertain if anyone had seen them descent, but without results; neither were they to be found in the cisterns, on roofs, or any elevation above the ground; Vance street is comparatively new, has no pavements, gutters; merely trenches; I heard of none being found elsewhere; when first seen they we're a very dark brown, almost black; were very thick in some places, being tangled together like a mass of thread or yarn."
Source: Monthly Weather Review of January 1877, page 8
---
Rained Snakes.
Columbus Ky. - Hundreds of colored people and some whites have left the country across the nMississippi river from here owing to a deluge of green snakes which covered the earth by the thousands after a heavy shower. No one has been found to offer an answer to offset the one that it rained snakes and many of the white families are agitated over the curious phenomenon.
Source: Mount Vernon Signal (Mt. Vernon, Kentucky), 16 Aug. 1907, page 2
---
IT RAINED SNAKES.
Downpour of Six-Inch Reptiles Astonishes Californians.
SAX FRANCISCO, January 7 - Thousands of tiny snakes poured from the clouds into Golden Gate Park during the storm of Monday, according to Park Supt. McLaren. The superintendent and other attaches of the park declared that for several hours the walks of the big pleasure grounds were covered with a wriggling mass of snakes. After the downpour of snakes they disappeared in the slush and mud. Secretary Healy, in describing the ophidian precipitation, said: "We thought at first that they were worms or fish, but on inspection saw that they were really snakes, measuring from three to seven inches in length and and averaging a quarter of an inch in thickness. We made no attempt to obtain any specimens."
Source: Evening Star (Washington, D.C.), 27 Jan. 1909, page 2
---
Horse Cave, Ky., May 4 - Ed Long of near this place, states that during the rainfall last Saturday it rained more than a dozen snakes on his house, and they fell to the ground. They were of different kinds, and were about one foot long. He will make affidavit that it is a fact.
Source: The Hickman Courier (Hickman, Kentucky), 11 May 1911, page 8
---
It Rained Snakes at Pierre.
A dispatch from Pierre, S.D., says: About 7:30 o'clock last night clouds began to gather and in ten minutes rain began to pour, accompanied by strong wind. Just about the time the rain ceased small snakes from twelve to sixteen inches long fell to the ground in various places. These were coiled, and when they struck the ground seemed to be somewhat stunned. The snakes have a bluish color.
Source: Evening Star (Washington, D.C.), 08 July 1890, page 8
[S.D. = South Dakota]
Same event with more details:
A peculiar phenomenon occurred at Pierre, S. D., and one which seems almost miraculous. About 7:30 p. m. clouds began to gather, and in ten minutes the rain commenced to pour down, accompanied by a strong wind. Just about the time the rain ceased, small snakes, from twelve to sixteen inches long, fell to the ground in various places. These were coiled or snarled up in a peculiar fashion, and when they struck the ground seemed to be somewhat stunned. Several parties killed some of the snakes and exhibited them. At first the fact that the snakes rained down was laughed at, but subsequently the evidence became so convincing that it is now universally known to be true. The snakes have a peculiar bluish color, and seem to have a peculiar light about their heads, looking like a halo when in the dark.
Source: The Princeton Union (Princeton, Minnessota), 17 July 1890, page 2
---
Snakes Rained Down at Memphis.
During the heavy rain storm January 16, a fall of small live snakes was noticed in the southern part of Memphis, thousands of which could be seen to day. They are from a foot to a foot and a half in length.
Source: The Bolivar Bulletin (Bolivar, Hardeman County, Tennessee), 01 Feb. 1877, page 3
---